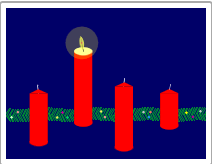 Here's wishing you the choicest blessings of the season. The applet was adapted from the work of Wengler published in GeoGebra Tube. Being an incurable math teacher and blogger I can't help not to turn this unsuspecting christmas geogebra applet into a mathematical task.
Observe the candles.
1. When is the next candle lighted?
2. On the same coordinate axes, sketch the time vs height graph of each of the four candles?
3. What kind of function does each graph represents?  Write the equation of each function?
3. If the candles burns at the rate of 2 cm per second and all the candles are completely burned after 20 seconds, what is the height of each candle? (Note: These are fast burning candles 🙂 )
[iframe https://math4teaching.com/wp-content/uploads/2012/12/PEACE.html 650 700]